Things You'll Need
Straw hat

Miniature plastic parrot

Margarita glasses

Miniature palm trees

Sunglasses

Lei flowers

Hot glue gun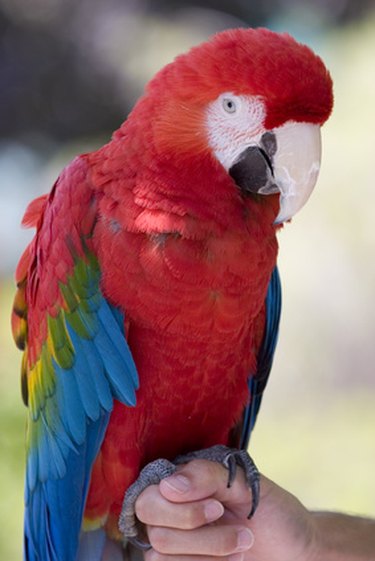 Whether you are heading to a Jimmy Buffett concert or holding a backyard Parrothead party, a one-of-a-kind hat is the perfect way to display your inner Parrothead and complete your party ensemble. Parrothead hats can be made with items that are easily found in craft and party supply stores, such as miniature parrots, margarita glasses, sunglasses, palm trees and lei flowers. With a little glue and a lot of creativity, you can create as dramatic a hat as you desire for your next Parrothead gathering.
Step 1
Purchase a basic straw hat to use for your Parrothead hat. While any size hat will work, those with a wider brim will accommodate more decor. Look for a hat with a sturdy brim so that it won't flop under the weight of the decorations.
Step 2
Look for fun decorations to adorn your Parrothead hat. A large, feathered parrot will serve as an ideal focal point, while miniature parrots, Margarita glasses, palm trees, sunglasses and related items will serve as secondary decor. These items can usually be found in craft stores and in the luau section of party stores. Hobby stores that carry dollhouse accessories are also a good place to look.
Step 3
Use a hot glue gun to adhere the items to the straw hat. You may want to play around with the design before permanently gluing any of the pieces in place.
Step 4
Wait for the hat to dry thoroughly before wearing it. Hot glue dries quickly, so it should be ready to wear within an hour.