Things You'll Need
Dishwashing liquid

Sandpaper, 120-grit

Cloths

Teak sealer

Paintbrush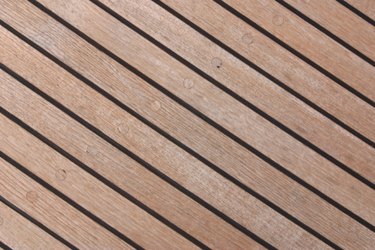 Teak furniture adds an elegant and distinctive touch to décor both indoors and outdoors. Teak wood contains natural protective oils that make it durable and easy to maintain. The grain of teak wood is also very fine, helping it to resist moisture. Teak wood made from the heartwood of the tree is the most durable. You can find patio furniture, desks, end tables, chairs, tables and other items made of teak. The wood starts out a warm, golden shade that ages to a silvery-gray tone. Sealing your teak wood is a way to retain the golden color and help protect it against the elements.
Step 1
Wash away surface dirt from the furniture with 1 tsp. dishwashing liquid in 1 gallon of water. Allow the furniture to dry overnight.
Step 2
Sand the entire furniture surface lightly to remove any aging or graying of the wood.
Step 3
Wipe off the sanding grit carefully with a cloth.
Step 4
Apply teak sealer by spray or with a paintbrush, according to package directions.
Step 5
Allow the sealer to dry for two hours.
Step 6
Apply a second coat of sealer and allow the furniture to dry overnight before using.
Tip
Furniture should be completely dry before applying sealer for best results.
You do not need to seal, oil or finish teak to preserve it. Sealing preserves the original golden color, if desired.
According to Amegawood, you should allow new teak furniture to sit outdoors for a week before sealing.
Teak sealers contain chemicals that offer UV protection to the wood as well as mold and mildew resistance.
It is not necessary to apply a clear coat after sealing teak furniture. Polyurethane or varnish clear coats will eventually peel and chip, requiring a great deal of sanding to remove the coating.
Apply teak sealer yearly to protect the wood surface.
Oiling teak is not always recommended. The teak has sufficient natural oils to protect it, and oiling does not prevent darkening of the golden color.
After sealing, teak furniture only requires regular washing with soap and water to remove surface dirt. Wipe up spills promptly to prevent staining.
Warning
If you wish to seal the furniture to keep its original golden color, you must seal the teak furniture before it turns silver-gray. If it has already begun to weather, you will need to sand it down to its golden-colored wood, according to Teak & Deck Professionals.
Only apply teak sealers in well-ventilated areas.