Things You'll Need
Blue painter's tape

Plastic sheeting

Tack cloth

Screwdriver

Liquid deglosser

Rags

Abrasive pad

Sandpaper

Wood filler

Paint brush

Paint roller

Primer

Orbital sander

Sanding sponge

Paint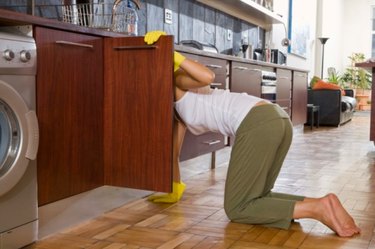 If your cabinets have been shellacked, you'll need to remove the glossy element before you can paint. Shellac is a type of glossy varnish typically applied to wood cabinets. It often adds a yellow or orange cast to the finish. Unlike painted cabinets, the glossiness of shellac does not hold paint well unless you prepare the surface before you apply the paint, requiring extra preparation. You must remove the shellac before applying the paint if you want to keep the paint from flaking off the surface at a later date.
Step 1
Tape off around your cabinets with blue painter's tape. Cover any surface which might get splattered with paint, like the counter or floor, with plastic sheeting or a tack cloth.
Step 2
Remove any hardware from the doors and drawers using a screwdriver. Remove the drawers and doors from the cabinets. Use a screwdriver to unscrew the hinges from the cabinets.
Step 3
Apply a liquid deglosser to the cabinets, doors and drawer fronts with a rag. Let the deglosser sit for a few minutes per the manufacturer's instructions. Use an abrasive pad to scrub the surface of the cabinets to remove the shellac. Repeat the process until you've removed the shellac from all your cabinets.
Step 4
Use a damp rag to wipe down the surface of the cabinets. This will remove any leftover pieces of shellac that were scrubbed away. Leave the surface to dry.
Step 5
Sand the surface of all the cabinets, doors and drawer fronts with a large grit sandpaper, such as 100-grit silicone carbide sandpaper. Wipe the surface with a damp rag to remove the dust once you've finished sanding. Let the surface of the cabinets dry.
Step 6
Fill any holes, gaps or scratches in with wood filler. Do not smear the filler across the surface of the wood. Let the filler harden. Sand the filler flush and smooth with the surface of the cabinets.
Step 7
Use a paint brush or paint roller to apply a smooth, even coat of primer to all your cabinets, doors and drawers. If you plan to paint your cabinets a dark color, use a tinted primer. Let it dry overnight.
Step 8
Use an orbital sander and a fine grit sandpaper to sand the surface of the primed cabinets. Use a sanding sponge to sand the trim edges of the cabinet doors. Wipe down the surface with a damp rag. Let it dry.
Step 9
Spray or paint on the finish coat of paint. Let it dry.
Step 10
Slide the drawers back into place. Reattach the doors to the cabinets.
Warning
Use goggles and a respirator while painting to avoid getting fumes or dust from sanding in your lungs or in your eyes.