Things You'll Need
Pressure washer

Gloves

Protective eyewear

Wire brush

80-grit sandpaper

Steel wool

5-gallon bucket

Red oxide primer

2- to 3-inch natural-bristled paintbrush

Mineral spirits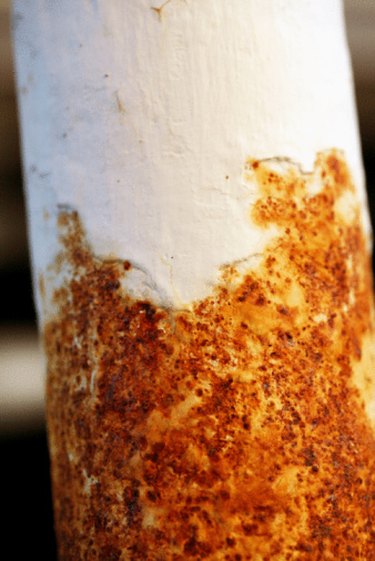 Oxidation is a natural process that occurs when metal is exposed to oxygen and water. Unless it is galvanized, a metal surface will rust when exposed to exterior weather. If you would like to paint a rusted surface, dedicate yourself to thorough preparation, or adhesion difficulties will inevitably result. Rust removal is essential to promoting a durable, lasting finish. Fortunately, metal is strong enough to allow for rough removal techniques. Employ the correct tools, or the process may take much longer than it should.
Step 1
Eliminate as much rust as possible from exterior metal surfaces with a pressure washer. Skip this step if the rusted surface is located indoors.
Step 2
Wear protective work gloves and eyewear. Scrape away loose rust fragments with a wire brush. Smooth the remaining rust particles with 80-grit sandpaper.
Step 3
Coat the rusted surface with an iron oxide primer before you paint it. Use a natural-bristled brush to apply the primer. Allow the iron oxide primer to dry for two hours before you paint.
Tip
Wash the iron oxide primer from your brush with mineral spirits.
Warning
Never paint unprimed rusted surfaces, or peeling will result.
Do not paint over loose fragments of rust, or adhesion problems will result.
Do not use ordinary primers on rusted surfaces, or you will see a recurrence of rust.