Things You'll Need
Scrapbook album

Cardstock

Patterned paper

Photos

Letters, cards, and other memorabilia

Adhesive

Scissors

Die cuts or stickers

Acid-free pen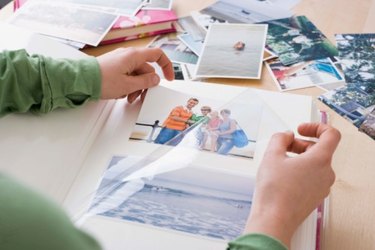 A memory book or scrapbook is a way to document and share memories with your significant other. Giving a memory book to your boyfriend for his birthday, for Christmas or as an anniversary present is a unique way to celebrate because you can add to the memory book year after year. You can fill the memory book with pictures, ticket stubs, invitations, letters you have written each other and other personal effects.
Step 1
Gather pictures of you and your boyfriend that have special meaning to you. These can be pictures from a first or especially romantic date, birthdays, holidays and vacations. Choose pictures from events you remember most.
Step 2
Find ticket stubs from movies or concerts you and your boyfriend have gone to together; these stubs can be paired with pictures from the event if you have them. Also look to see if you have any invitations to parties or special events that both of you attended.
Step 3
Arrange your photos, memorabilia and decorations to create the pages of your album. You can arrange the memory book chronologically. If it's your first anniversary, you could use calendar pages to make a "Year in Review" book. You could also organize pages by themes, such as vacations, birthdays and romantic occasions. Use acid-free glue to secure any die cuts or decorative items to the paper.
Step 4
Use an acid-free pen to write journaling that describes that photos. Write a special love letter for your boyfriend for the first page of the book, so he will understand the significance of the book.
Step 5
Continue to add to the scrapbook as your relationship goes on. You can create new pages or add to existing ones as you make new memories with your boyfriend.