Things You'll Need
Fabric pieces of the same weight

Lacing cord

Hand-quilting thread

Heavy duty needle

Darning needle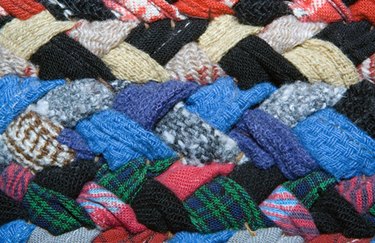 Making rag rugs is a long-standing tradition handed down through the centuries. Rag rugs help preserve pieces of history by reusing old-fashioned pieces of clothing and linen. Rag rugs initially were made out of necessity, but eventually were perceived as an art form. There are many ways to make rag rugs. Choose special pieces of fabric that have been handed down through the years or pieces you are particularly fond of to make an extra special rag rug.
Step 1
Gather all of your materials. Cut your fabric into two-inch strips. The strips can be any length, as you can add to them later. Join the strips by placing the right sides of the fabric together and stitching them together with a 5/8-inch seam. Roll the joined fabric strips up into a ball. Keep joining and rolling enough strips to make three balls that are at least six inches in diameter.
Step 2
Take one end from each of the three balls and loop each of the strips together, creating a knot that is snug but not tight. For ease in braiding, anchor the knot at one end. You can do this with a nail in a board, a doorknob or even a clipboard. Using a basic three-strand braiding technique, braid until the braided strand is approximately 10 inches long.
Step 3
Remove the braid from anchor point. Tighten the knot and cut off any excess fabric strands.
Step 4
Create a spiral shape with the braid. Use lacing cord and a heavy duty needle to lace the braids together by weaving the needle and cord between a braid on one side to a braid on the coil's other side.
Step 5
Return to braiding, completing a few feet and then securing with lacing. Continue braiding and lacing until you have reached the desired rug size.
Step 6
Finish the rug by trimming the three strands measuring the same length. Fold the ends over a half inch to cover the raw edges. Secure with heavyweight thread and a darning needle.