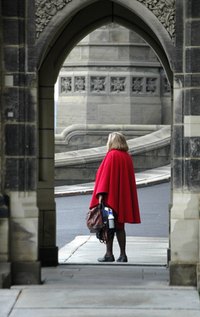 Be Superman or Little Red Riding Hood in a red satin cape. Wear a black cape and be Batman, Dracula or any character from the Harry Potter books. Capes are a useful addition to any costume wardrobe. No other garment flaps in the breeze when you run or sweeps the air when you make a dramatic gesture like a cape. Children love to tie a towel around their neck to play superhero. Make your child his own cape and stop searching for your towels in the toy box.
Things You'll Need
Tape measure
Fabric
String
Pins
Tailors chalk
Scissors
Double-fold bias tape
Measure from the base of the neck to the desired length of the cape. A child's superhero cape might be 22 inches long. A similar cape for an adult would be 44 inches long.
Fold your fabric in fourths by bringing the top edge down to the bottom edge then bringing the left side to the right side, making a rectangle. Cut a length of string the desired length of your cape and pin one end of the string to the folded corner that is the center of your fabric, the top left corner. This string will be a sort of compass for tracing a circle.
Use the other end of the string to trace an arc from the left side of the rectangle to the top side of the rectangle. Hold the string taut and mark the path of the end of the string with chalk as you go. The arc will be a quarter of a circle. Cut along the line you drew through all four layers of fabric. Do not unfold the fabric.
Cut the string to 4 inches long, leaving it pinned to the fabric. Trace and cut another arch with the 4-inch string. This is the neck of your cape.
Unfold one of the folds so that the fabric is a half-circle. Cut along one side of the remaining fold from the edge of the circle to the neck hole.
Encase the front and bottom edges with double-fold bias tape and sew close to the top folded edges to finish the raw edges of the fabric. Be sure to catch both sides of the tape as you sew. You may skip this step if you are using felt or fleece.
Cut a 4-foot length of bias tape. Fold the tape in half and match the center of the neck to the center of the tape. Encase the neck in the bias tape and attach the tape as you did earlier. Sew the folded edges of the excess tape together to make a tie on each side of the neck opening. Finish the ends of the ties with a narrow hem or zigzag stitch.