Things You'll Need
Measuring tape

Pencil

Level

Stud finder

Chalk line

Wood screws

Drill

Stair rail

Mounting Strip

Painter's tape

Stain or paint

Paint brushes

Wood putty

Putty knife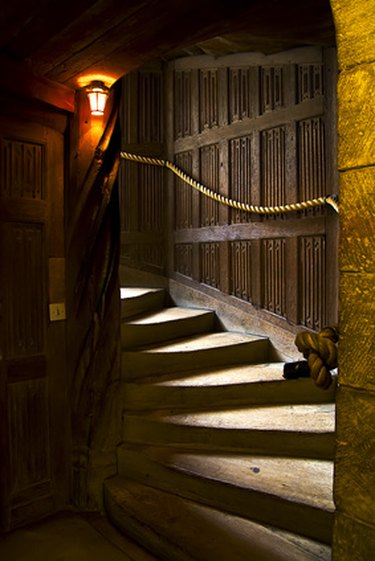 Installing a railing to a narrow staircase will give added security for anyone using stairs. By orienting the hand rail on its side, space can be maximized. According to The Family Handyman website, more accidents happen in stairwells than in any other area of the house and railings make stairways safer. This hand rail is mounted on the wall with very little gap. The project can be completed in a weekend with some basic tools.
Instructions
Step 1
Measure the current banister height. Take that number and measure up from the stairs on the wall side. Mark the height on the wall with a pencil. Using the level, make a vertical line at each mark. Then connect them with the snap of a chalk line. This is the rail height.
Step 2
Find the studs using a stud finder. Make a mark on the chalk line to show where the studs are. The mounting strip will be attached to the studs for added strength.
Step 3
Cut the mounting strip to the desired length. Make sure that the mounting strip selected fits into the bottom channel of the chosen handrail. Miter the ends of the mounting strip. Paint or stain the mounting strip.
Step 4
Line up the mounting strip below the chalk line. Use the drill and screw the mounting strip onto the wall and into the studs. Make sure to countersink the screw heads.
Step 5
Cut the handrail to length, including miter cuts on the ends. Slip the handrail over the mounting strip. Decide where to put screws, making sure they are evenly spaced, and not in the same location as the screws in the mounting strip. Put painter's tape on the handrail before drilling pilot holes and driving in screws.
Step 6
Cut two mitered caps for the ends of the handrails. The cap is an unused section of handrail that is flat on one side and mitered on the other. The flat side goes towards the wall, and the mitered side fits with the handrail. Screw into place, using the same method as attaching the handrail to the mounting strip.
Step 7
Fill all the screw holes with wood putty to cover the screws. Choose a putty that is a match for the stain used. If the rail is painted, choose a putty that can be painted to match when it is dry. Apply the putty with a putty knife, and wipe away excess. Putty can take up to 24 hours to dry, but the rail is now ready for use.
Tip
Pre-cut wooden pegs can be used instead of the putty. Just give them a dab of glue and tap them in with a hammer.