Cedar chests were once popular marriage gifts used for storing prized possessions. Edward Hudson Lane founded the Lane Company in Virginia during the early twentieth century, when furniture-making emerged as a major industry. The Lane Company reached a high point during World War II, when the company advertised cedar chests as hope chests, sold to young ladies in preparation for marriage. Lane cedar chests remain popular today, but you must know how to properly care for a Lane cedar chest to preserve its natural beauty.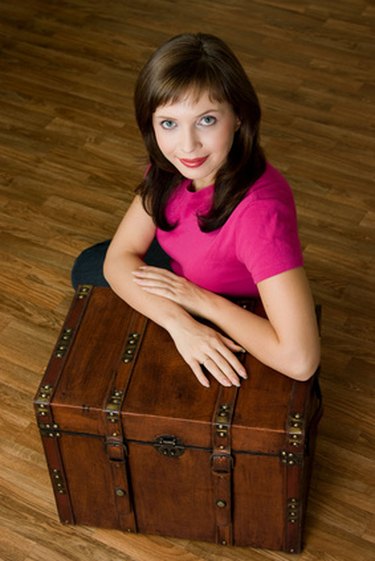 Things You'll Need
Fine-Grade Sandpaper

Polishing Solvent

Vacuum Cleaner

Soft Cloth

Soft Brush Attachment

Paste Wax
Step 1
Dust your Lane cedar chest on a regular basis with a soft, lint-free cloth to help keep the finish clean. Use the soft brush attachment on your vacuum cleaner to remove dust from the cedar chest's exterior. Use a hand-held vacuum or soft brush attachment to clean the interior, paying special attention to the corners where dust collects in closed chests.
Step 2
Remove any wax build-up on a Lane cedar chest. You will notice a streaked surface on the exterior finish of your Lane cedar chest if it has been waxed too much or too often. Clean the exterior surface with a polishing solvent that is made especially for wooden chests, and wipe it clean after cleaning with the solvent.
Step 3
Rub paste wax on the exterior finish of your Lane cedar chest with a soft cloth, rubbing in the direction of the wood grain to add a high-gloss shine. Carnauba paste wax is especially beneficial for older Lane cedar chests, because Carnauba paste wax fills in minor cracks and helps protect the finish. Avoid using spray polishes or common waxes on your chest, as these products often contain silicone, a chemical that can be an impediment to any refinishing efforts.
Step 4
Store your Lane cedar chest in an area with consistently moderate temperature and moisture levels. Exposure to extreme temperatures, frequent atmospheric changes and high-humidity environments can warp and crack the finish, or cause the joints to pull part. Protect your Lane cedar chest by placing it out of direct sunlight, in a temperature regulated room.
Step 5
Refresh the interior of your Lane cedar chest by gently sanding it with a fine-grade sandpaper. Lightly sand with the grain of the wood, and then vacuum out the dust. This is often all that is needed to refresh the cedar interior, but leaving the lid shut for several days after a light sanding will further intensify the cedar smell.
Tip
Buff the wax until it is completely absorbed to help avoid streaks and smears on the finish.
Warning
Consult a furniture specialist before attempting to remove stains on antique finishes.