Things You'll Need
18-inch latex stuffing balloon

4 roses

Straight PVC pipe, 3-inches wide by 4-inches long

Balloon tie, 8-inches long

Compressed air inflation tip

Small tank of compressed air

Styrofoam 12-inch ring

1/2 gallon of water

Bottle of blue dye

Scissors

Long wooden spoon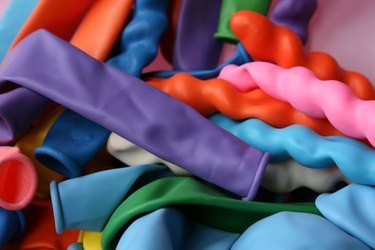 Receiving a heart-shaped, clear balloon with lovely red roses inside is a sweet gift. Learning to stuff a handful of real flowers into a balloon is easy when you learn the steps. The secret is a durable and flexible balloon, and flowers with no sharp edges. To widen the mouth of the balloon, you'll need a handy gadget that can be purchased at a local hardware store. This is an inexpensive gift idea that requires very little time, but offers a guaranteed smile from the recipient.
Step 1
Choose a smooth workspace and place the PVC pipe, balloon tie, the wooden spoon and a handful of balloons on the surface. Prepare four roses by cutting off excess stems, leaves and all the thorns. Place the roses on the table.
Step 2
Slip the lip of the balloon over the end of the 3-inch wide PVC pipe. Work around in a circle and stretch the opening of the balloon until 1/2-inch to 1-inch of the PVC pipe is covered. Replace the balloon if it tears, rips or punctures, which rarely occurs with latex stuffing balloons. Set the pipe and balloon on the table.
Step 3
Pour a few drops of blue dye into the half gallon of tap water and shake with the lid on. Hold the PVC pipe up high and pour the fluid in slowly until the balloon expands. Leave room at the top for the amount of planned roses to place in next.
Step 4
Place a rose inside the PVC pipe with the short stem facing toward the person stuffing the balloon. Lift up on the PVC pipe, then use the narrow handle of the wooden spoon to gently tease the rose through the pipe into the balloon. Allow gravity to force the rose to drop into the water. Fill the balloon with all the roses until you are unable to nudge another rose inside the balloon.
Step 5
Pull the lip of the balloon away from the PVC pipe. Attach the inflation tip to the compressed air tank and fill the balloon to the manufacturer's suggested size. Pull out the inflation tip and wrap the lip of the balloon tightly with the tie. Set the balloon on the 12-inch Styrofoam ring so it will display the roses floating on blue water.
Tip
Use floating flowers such as gardenias and lilies. Cover the Styrofoam with pretty wrapping paper or spray paint any color.
Warning
Use caution when inflating a balloon and feel the tension in the skin if the balloon is too taut.