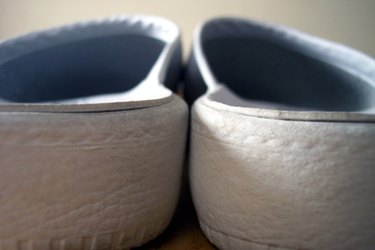 One of the best parts about wrapping gifts is planning a creative approach; it shows your recipients how much you care and makes gift opening much more fun for everyone. When things like slippers come with no boxes, it can be more challenging to wrap them. When wrapping a slippers gift, you can get a box and wrap in the expected way, but there are plenty of other slippers and shoe gift wrapping ideas to up the interest factor.
If you don't have or want to use a gift box for slippers or shoes, there are many clever ideas you can try. Buy the recipient a scarf in addition to the slippers, then wrap up the slippers in the scarf and secure it with a bright bow. Another idea is to place the slippers facing each other and wrap them up in a few sheets of tissue paper. Tape this closed on all sides and put it on a large piece of wrapping paper.
Starting at one end, roll up the package until the tissue paper is covered and trim off the excess wrapping paper. Tape the central part together and flatten down the sides. Pinch in at one edge until the pieces meet in the middle, and then tape down the flaps. Repeat this on the other side.
Wrapping Slippers in Other Clothing
Another idea is to buy a matching pair of pajamas or a robe. You can roll either up around the slippers, whether they are wrapped or not. Or, hide the slippers in the folds and place the pajamas or robe inside of a box.
You can also buy a gift box for slippers or put them in an appropriately-sized gift bag. Although those last two may not be particularly creative, they are just fine for those pretty Christmas bow slippers that you bought for your mom.
Creative Gift Wrapping Ideas
There are plenty of creative and memorable ways to add special touches to your wrapping this year if you have enough time. One is to buy novelty-shaped plastic buttons, which you can find at craft and sewing shops. Instead of tying on bows, sew on the buttons with just a few stitches of embroidery floss. You can make pretty patterns with them, or look for holiday-themed ones.
A second idea is to swap out wrapping paper for holiday crepe. For example, a love way to present a gift could be a package wrapped with gold streamers that is then tied on the top with a fabric Christmas lights garland. You can also decorate gifts with inexpensive fake gemstones and jewels; why not include these as gifts? You might be able to wind a pretty necklace inside of a bow.
Tea towels and cloth napkins can also be used in place of wrapping paper and can double as extra gifts. You can also try accenting Christmas gifts with nature-inspired decorations, like leaves and berries. For a truly elegant touch, spray paint natural elements silver, gold or white. Old maps and atlases also make excellent wrapping paper, as long as they are not valuable or in use.