Things You'll Need
Ribbon

Scissors

Hot glue gun

Hot glue sticks

Rubber band

Tissue paper (color of your choice)

Two wrapped peppermint candy pieces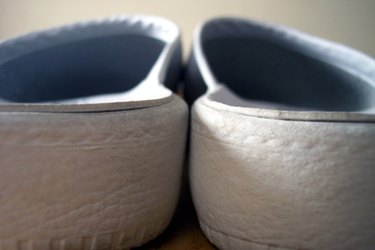 If you bought a pair of slippers for a gift for a friend, you may be trying to think of creative ways to gift-wrap them. Using a little tissue paper, ribbon and tape, you can transform a pair of slippers into a massive piece of candy. This makes a great presentation for a holiday gift -- or for a friend who likes candy.
Step 1
Place the toe of one slipper into the foot of the other. This creates a compact set that is easier to wrap. You also can place the slippers sole to sole, and wrap a rubber band around them.
Step 2
Cut two 6-inch pieces of ribbon with your scissors. Insert a glue stick in your glue gun, and plug the gun into a power outlet.
Step 3
Spread out two layers of tissue paper, one on top of the other.
Step 4
Place the slippers diagonally at the bottom left-hand corner of the tissue paper. Roll the slippers in the tissue paper until you reach the top right corner of the tissue paper.
Step 5
Pinch the ends of the tissue paper on each end of the slippers. Tie ribbons into a knot around the gathering of tissue paper at each end of the slippers. Then, tie the ribbons into a bow.
Step 6
Squeeze a dot of glue on the back of two wrapped peppermint candies, and press into the center of each bow.