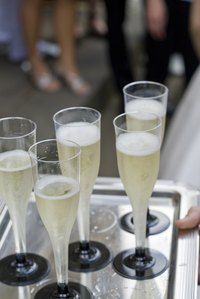 Take party planning creativity beyond the usual centerpieces, right to the stemware. Plastic champagne flutes are inexpensive and simple to decorate using etching cream. The etching cream creates a frosted look where it is applied to the champagne flute. You simply mark out the pattern with stencils or stickers, apply the cream, and wipe it clean.
Things You'll Need
Contact paper
Etching cream
Rubber gloves
Scissors
Craft knife
Orange stick or skewer
Wide paintbrush or sponge brush
Optional
Painter's tape
Stickers
Simple and Spectacular
Clean the champagne flute completely. Any oils or dust on the glasses will prevent the etching cream from working, leaving blotches.
Trace the design onto the contact paper. Cut carefully with the craft knife. Clean lines are important to a crisp etched image. Save pieces that belong to the interior of the design, such as the center of a flower or the inside of a letter.
Peel the backing off the contact paper and apply to the champagne flute. Be sure there are no bubbles or air pockets. Make sure all areas not to be etched are covered completely. Smooth the edges and corners of the contact paper down with the orange stick.
Put on the rubber gloves. Etching cream has an acid base that can burn skin. Apply the etching cream with the paintbrush. Use a thick layer of etching cream. Leave the cream on for 5 to 30 minutes, according to the manufacturer's recommendations.
Rinse the cream off the champagne flute.
Completely remove the contact paper stencil.
Wash the etched champagne flute with soap and water.