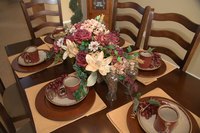 Table decorating was made famous by the iconic Martha Stewart, who introduced new ways to entertain guests with creative centerpieces and coordinated fabric napkins. Table decorating contests are popular during the holiday season, and judges are expected to look for specific details such as the color scheme, placement of utensils, and creative centerpieces.
Things You'll Need
Write down notes in your notebook, so you will remember each detail at the end of the judging period. Even if there is a clear winner in your head, you may be asked to say a few things about each table when the winners are announced.
Look for colored fabrics, plates, utensils, and flower arrangements. Each element of the table should match the overall theme. If the table decorating contest revolves around a Christmas theme, for example, you should see colors that coordinate with the season such as green, red, and white.
Check to make sure the utensils are properly placed. If you're not actually eating at the table, this might be easy to forget. Forks should always be to the left of the main dinner plate. The knife should be on the other side of the plate, with the serrated edge facing in, and the spoon should be on the outside of the knife. The glass should be placed above the plate to the right, while the bread or appetizer plate should be to the left.
Take note of the centerpieces. Did the table decorator just place a vase full of flowers in the center of the table, or was he or she more creative? Handmade pieces earn extra points for uniqueness, while sticking with the theme is also important.