Things You'll Need
Index cards

Sticker labels

Business Cards

Card stock

Scissors

Hole punch

Sharp craft knife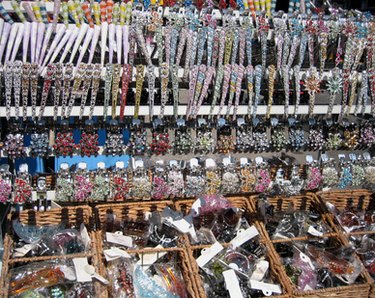 Selling your hair bows and clips is a good way for a crafty personal to earn some money. Displaying your bows to their best advantage is essential at a craft fair or in a boutique. You do not have to order thousands of display cards from a large printer or manufacturer, however. Use your creativity to make your own out of index cards, card stock or your own business cards.
Card Stock
Step 1
Cut a sheet of card stock into six or eight equal pieces. The size of your piece depends on the size of your clips and how many you plan to put on each card. You can also simply use unlined index cards.
Step 2
Place a sticker label at the top. The label should have your business name at the very minimum; you can also include contact information and website.
Step 3
Punch two holes in the card about 2 inches apart. If your clips are small, put the holes closer together. The clip should be able to go in one hole and out the other. If you are putting more than one clip on a card, punch two holes per clip.
Step 4
Punch a hole at the very top of the card. This will allow the card to hang on a display hook. You can skip this step if you do not plan on hanging your clips.
Tip
If your clips are very tiny, use your business cards; simply affix the clip to the back side. Print your own labels at home, or order them very cheap online from sites such as VistaPrint.