Things You'll Need
Adjustable wrenches (2 pair)

6-in-1 screw and nut driver

Set of Allen keys (both metric and standard)

Wire nuts

Electrical tape

Garden hose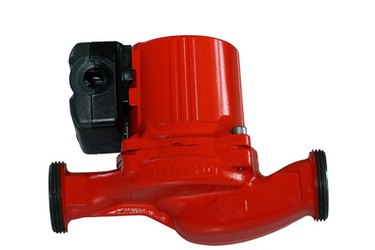 In most residential hydronic heating systems, water is circulated throughout the system using one or more circulator pumps. Being one of the key components in the system, it is fortunate that they have become very easy to repair and/or replace. Taco, a widely used manufacturer of circulator pumps, is a prime example of the simplicity of the repair process for most boiler and water heater circulation pumps. What follows is the repair process for one of the more common style Taco pumps in use, the "00" series wet rotor circulation pump.
Replacing the motor
Step 1
Before attempting the repair, order the entire repair parts kit from the manufacturer to limit the amount of time the heating appliance will be down.
Step 2
Shut down the power, water, and fuel to the boiler or water heater appliance the pump services.
Step 3
Shut off power to the circulation pump.
Step 4
Open the electrical cover on the top of the cartridge of the pump using the 6-in-1 screwdriver.
Step 5
Disconnect the electrical wires from the pump.
Step 6
If possible, valve off the circulator pump. If valves were not provided in the original installation, drain down the boiler using the boiler drain at the bottom of the boiler and the garden hose.
Step 7
Loosen and remove the four bolts on the two flanges holding the circulation pump in place and remove the pump.
Step 8
Using the correct size Allen key, remove the motor assembly.
Step 9
Install the new motor assembly per the manufacturer's instructions with the supplied gaskets.
Step 10
Reverse Steps 1 thru 8 and follow the individual boiler or water heater manufacturers Operating Instructions to restart the system.
Replacing the Cartridge Assembly
Step 1
Perform Steps 1 thru 8 of Section 1
Step 2
Remove the cartridge assembly from the existing motor assembly.
Step 3
Insert the new cartridge assembly into the existing motor assembly, making sure the cover plate is between the cartridge flange and the motor.
Step 4
Reverse Steps 1 through 8 and follow the individual boiler or water heater manufacturer's Operating Instructions to restart the system.
Step 5
Tip
Be sure to shut off the electric before disconnecting the circulation pump to avoid shock.
Warning
Do not attempt the repair without the complete repair kit and the specific boiler's Operator's Manual.