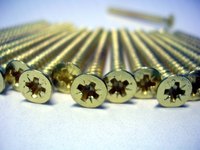 Removing a screw is an easy task, if it's intact. But a stripped screw, one with a worn head, makes the job frustrating and time-consuming. You can't insert a screwdriver into a worn head to remove the screw, so you must use a different tactic. Two good options are removing the screw's head or using a screw extractor.
Things You'll Need
Power drill
Pliers
Wrench
Removing the Screw's Head
Drill through the center of the screw's head using a drill bit that's a third its size. Drill to about 1/8 inch deep. The screw's head should come right off.
Drill through the center using progressively larger bits, if the original bit doesn't work.
Remove the item held in place by the screw. Grip the screw's shank with pliers and remove it by turning the pliers counterclockwise.
Screw Extractor
Drill into the screw's head until you've reached 1/8 to 1/4 inch depth. Ensure your screw extractor, a device that has cutting threads running opposite a screw, has a diameter smaller than the screw's shank.
Tap the screw extractor into the screw using a hammer. Grip the top of the screw extractor with pliers or a wrench.
Rotate the pliers or wrench counterclockwise to remove the screw.