Things You'll Need
Broom

Palm sander

180-grit sandpaper

Professional painter's tape

Heavy-duty fabric drop cloths

Roller frame

Roller extension pole

Nap roller cover

3-inch nylon paintbrush or polyester paintbrush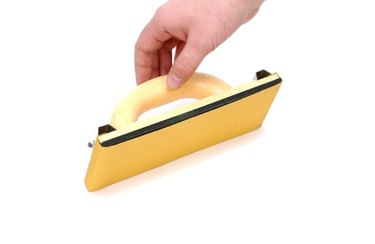 Eggshell finishes have a light sheen that enhances the appearance of the surface they coat. Unfortunately, when the time comes for repainting, this sheen can interfere with adhesion. Flat paint will not bond to an eggshell finishe unless the existing coating is abraded. Without proper preparation, the new paint will peel and flake. So take the time to prepare your walls for the new paint and use the proper tools for the best result.
Step 1
Dust the surface with a broom.
Step 2
Abrade the eggshell finish to promote adhesion. Scour the finish with a palm sander stocked with 180-grit sandpaper. Stop when the eggshell finish feels slightly rough.
Step 3
Protect surfaces adjacent to the finished surface by covering each with painter's tape. Spread a drop cloth over the floor.
Step 4
Coat the abraded eggshell finish with flat paint. Use a roller for finished walls. Move the roller vertically, proceeding left to right. Use a paintbrush to paint all areas inaccessible to your roller. Use a polyester brush on smooth eggshell surfaces and a nylon brush on textured eggshell surfaces. Allow the flat paint to dry for two hours. Add a second coat if the eggshell finish shows through.
Warning
Do not apply flat paint directly over unabraded eggshell finishesor the new paint will peel.
Do not over-sand the eggshell finish, or portions may strip free. Sand only until the existing finish has a slight grit.
Don't use sandpaper with a grit lower than 180, as this may leave abrasion scars.