Things You'll Need
PVC pipe

Corrugate pipe

Utility knife

Epoxy or silicone sealant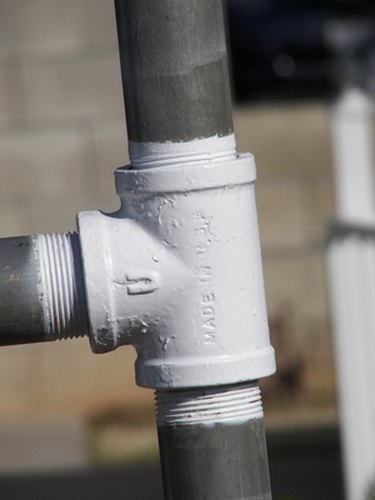 Sump pumps, drain fittings and roof downspouts often use two different types of pipes—corrugated pipes and polyvinyl (PVC) pipes—to allow water discharge or to redirect water discharge. Connecting a corrugated pipe with a PVC pipe isn't always an easy fit, but it can be done with the right tools, including a utility knife and a sealant such as silicone or epoxy. The type and diameter of the pipe you use will depend on the application you are using it for.
Step 1
Insert the PVC pipe into the corrugated pipe. The diameter of the corrugated pipe has to be large enough to accommodate the PVC pipe, but not so large that it will be impossible or difficult to seal up properly. For example, if the PVC pipe is about 2 inches in diameter, you will want the corrugated pipe to be about 4 inches.
Step 2
Use a small utility knife if the two pipes are too tight. You can use the knife to carve away some of the polyvinyl material of the PVC pipe.
Step 3
Position the pipe in a stable position so that it is unlikely to move a lot. If you have the option, laying the two pipes down on a flat and steady surface is ideal.
Step 4
Apply silicone sealant or epoxy to seal and glue the two pipes together. Hold the two pipes firmly in place for a few minutes and leave them in position for a few hours so that the connection can fully dry.