Things You'll Need
Heat transfer paper with printed image

Iron

Hard, flat surface, such as tempered glass or formica

Pillowcase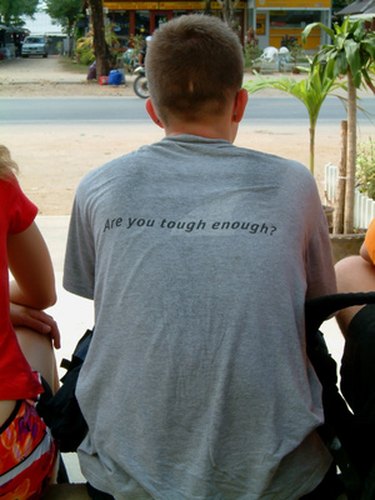 A heat press transfer machine is a tool used to transfer images from special paper onto fabrics, such as clothing. You can purchase professionally made heat press transfer machines online or from your local craft store. However, these machines can be expensive and it might be cheaper to look for ways to devise your own transfer tools. You don't need to purchase any special equipment to create your own heat press transfer machine as you can easily adhere the transfer to the fabric by using an iron.
Step 1
Heat the iron at its highest setting for 10 minutes. During this time, make sure you have the fabric and the transfer image ready to use.
Step 2
Place a pillowcase on the hard, flat surface, and then place the fabric you want to transfer the image to on top.
Step 3
Iron the fabric first, ensuring you remove any wrinkles or creases. This is important because if you transfer the image onto creased material, tit could prevent the image from adhering to the fabric properly.
Step 4
Leave the fabric for several minutes until it is cool. Do not move or reposition it during this time as that could create creases.
Step 5
Place the transfer image face down onto the fabric. Press the iron onto the top left-hand side, and then move it slowly along the top edge of the transfer. Repeat the same process with the bottom edge, starting at the bottom left-hand corner. Depending on the size of your transfer, you might also need to repeat this process with the vertical left-hand and right-hand edges of the transfer as well as the center. You will need to apply some pressure with the iron, but do not leave it on one spot too long because the transfer might burn.
Step 6
Cover the whole transfer for two minutes by making circular motions with the iron. This reheats the surface of the transfer and is an opportunity to check that all edges and corners have adhered to the fabric.
Step 7
Refer to the transfer manufacturer's instructions for more information on how to peel the backing off the transfer. Some transfer papers are best peeled off when the transfer has cooled and others while it is still hot. You can peel some backing paper off when it is hot or cold, depending on whether you want a matte or glossy finish to your transfer.
Tip
Try purchasing special transfer printer paper to use with an inkjet printer to make your own transfers.
Warning
Always wash garments with a transferred image inside out in cold water.