Things You'll Need
Bleach

Nylon scouring pad

Food-storage container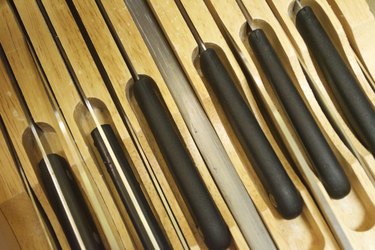 The kitchen is full of nasties -- E. coli, salmonella and listeria monocytogenes run rampant on unclean cutting surfaces and unsanitized kitchen utensils. However, these potentially deadly bacteria have a common enemy: household bleach. Sanitizing your kitchen knives in bleach water after filleting fish, chopping beef, or slicing the dreaded raw chicken breast effectively eliminates the pathogens from your kitchen, your food and your life. Sanitizing your knives starts with a thorough washing and ends with a mere one minute in a sanitizing solution.
Step 1
Wash the knife with warm, soapy water. Use the corner of a dish scouring pad to clean in the corners on both sides where the blade meets the handle. Rinse the knife and allow it to air dry on a paper towel.
Step 2
Mix together 1 quart of water with 1 scant teaspoon of household bleach in a food-storage container. The container must be large enough to submerge the knife blade in it when filled with bleach water.
Step 3
Submerge the knife blade in the bleach water. Let the knife soak for 1 minute.
Step 4
Remove the knife from the bleach water and let it air dry on a paper towel.