Things You'll Need
Computer with internet access

Printer paper

Card stock

Spiral bound notebook

Pliers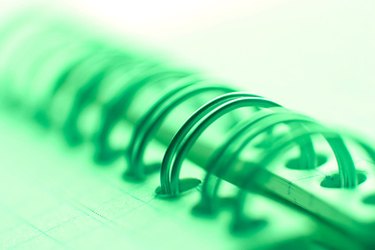 Having a monthly calendar is a great way to keep up with a hectic schedule. All the appointments, birthdays and meetings are available at the flip of a page. While many of our hand-held gadgets come with a built-in calendar, there is something to be said for actually holding one in your hands and writing down dates. If you are having trouble finding a calendar that fits your needs, you can simply make your own.
Step 1
Visit a calendar-making site like Vortex42.com to make your calendar pages. You can also hand draw the pages if you prefer. Print out the weeks and months that you need and set the pages to the side.
Step 2
Purchase a spiral notebook. Take a pair of pliers and unbend the ends of the spiral binding. Then twist the spiral out from the notebook.
Step 3
Take two pieces of card stock or poster board and designate them as the front and back of your calendar. Decorate them however you like.
Step 4
Take the old spiral notebook and lay it over your new cover and weekly calendar pages so you can guide the hole punch. You need your punched hole to match up exactly. Ensure that everything is lined and matched, then begin hole punching.
Step 5
Insert the spiral binding through the notebook holes. Bend the ends back to prevent the spiral from coming out.