Things You'll Need
Phillips screwdriver

Flat-blade screwdriver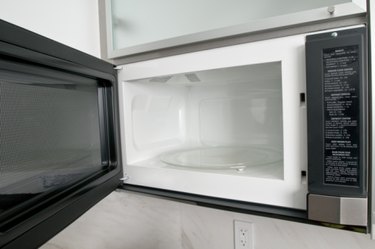 Taking down a Whirlpool over-the-range microwave is not a difficult procedure when you have a helping hand. Holding the microwave in place are screws and a mounting bracket secured to the wall behind the microwave. The one thing that makes the job easier is having an assistant. The microwave is too heavy an appliance to consider removing from a high place on your own. With an assistant's help, the rest of the process is a breeze.
Step 1
Open the cabinet doors above the microwave and disconnect the cable from the wall socket.
Step 2
Have your assistant brace the microwave as you locate and extract the two screws inside the cabinet that hold the microwave up. Once you have extracted the screws, the microwave will fall down and hang on the mounting plate on the wall behind.
Step 3
Lift the microwave off the hooks on the bottom of the mounting plate and place the microwave on the countertop or the floor.
Step 4
Extract the screws that secure the mounting plate to the wall and pull the mounting plate off the wall. Now the microwave is completely removed.