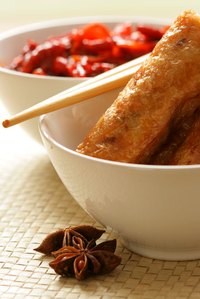 Spring roll skins are made from a variety of foods, including vegetables, rice and tapioca. Many wrappers are dehydrated to extend shelf life and decrease shipping weight. The dried skins become hard and too brittle to roll. They must be made pliable before being used to make rolls.
Things You'll Need
Parchment paper
Paper towels
Heat two cups of water in the fry pan over medium-high heat. Remove the pan from the heat when tiny bubbles begin to accumulate on the bottom.
Lower the hard spring roll skin into the water until it is completely submerged. Swish it around in the water gently with tongs for 10 to 15 seconds.
Move the softened skin to a sheet of parchment paper. Pat excess moisture from it.