Things You'll Need
Bit (ZipBit and/or XBit)

Circle cutter (CRCT2)

Jigsaw handle (JSH5)

Safety goggles

Dust mask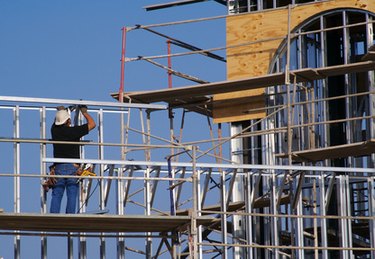 Precise cutting with RotoZip tools requires skilled hands or additional accessories, especially when it comes to cutting circles. RotoZips are a variety of unique tools, some of which allow users to make precise cuts, angles, or circles in various building materials. RotoZip toosl, with their core platform of cutting bits and depth gauge, are becoming increasingly popular among tradesmen. With the Rotozip, you can cut through metal, ceramic, masonry, concrete, brick, cement, sandstone and almost any other construction material. Using the circle cutter accessory, you can cut precise circles for recessed lighting or any other project.
Step 1
Put on your dust mask and safety goggles. According to the U.S. Bureau of Labor Statistics, there are over three million cases of work-related injuries each year. Proper safety gear helps protect you from unnecessary injury.
Step 2
Attach the jigsaw handle securely to the RotoZip tool. Press the shaft of the tool down and insert the bit into the tool, making sure to leave about 1/8 inch of exposed shank above the chuck for bit flexibility. Tighten the chuck.
Step 3
Connect the circle cutter attachment to the RotoZip tightly and adjust it to the required diameter.
Step 4
Plug the RotoZip into an outlet and switch the power on. Hold the jigsaw handle firmly and start cutting at an angle of 45 degrees. Bring the tool slowly and smoothly up to an angle of 90 degrees with moderate and steady pressure. Complete the circular cut, and turn off the power.
Tip
To cut the circle into a corner or crevice, use the high-speed Hole Saw attachment. Cut in a counter-clockwise direction for drywall. Cut in clockwise direction for other materials.