Mosquitoes annoy people with their buzzing and bites, invariably leaving angry red bumps that can be extremely itchy. It's important to have an efficient insect fogger available when you're enjoying a barbecue or any other activity in the garden. Fortunately, with minimal equipment, anyone can make an effective insect fogger by using your power lawn mower.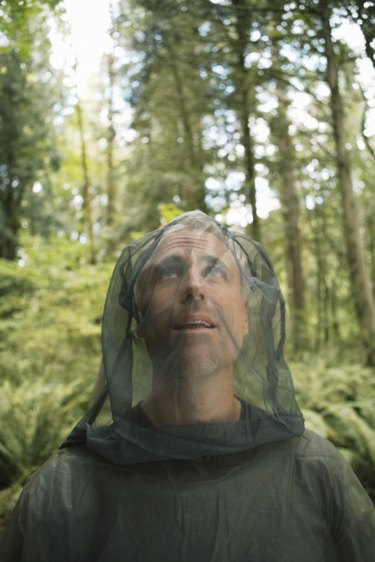 Things You'll Need
Protective Face Mask

New Oil Can, With Flexible Hose And Built-In Lever

Drill With Metal Bit

Two Small Diameter Metal Clips

Insecticide Solution, Containing Pyrethrin, Permethrin Or Methoprene

12-Inches Of Soft Binding Wire

2.5-Foot Copper Pipe, 0.25-Inch Diameter

One Large Diameter Metal Clip

Inflatable (Ball) Needle

Pliers (Optional)

Screwdriver

Lawn Mower
Step 1
Cut off the tip from the flexible hose attached to the oil can.
Step 2
Push the loose end of the flexible hose into one end of the copper pipe.
Step 3
Place a hose clamp around the area where the flexible pipe enters the copper pipe and tighten.
Step 4
Push an inflatable (ball) needle into the open end of the copper pipe. Place a small metal clamp around the connection and tighten the copper pipe around the base of the needle.
Step 5
Place a large, 12-inch long metal clamp around the body of the oil can and begin to tighten.
Step 6
Completely open a small metal clamp and place a section of the clamp strip between the body of the oil can and the large diameter clamp. Tighten the large diameter clamp, which is already around the oil can, so that a strip of the small clamp is held tightly against the body of the oil can.
Step 7
Use the small clamp to secure the oil can onto the handle of the lawn mower, at a position that the 2.5-foot copper pipe will reach and just enter the muffler box on the lawn mower.
Step 8
Drill a hole into the muffler box, a little larger than the diameter of the copper pipe.
Step 9
Place the first 2 inches of the copper pipe into the hole in the muffler and use the soft binding wire to secure the copper pipe in place.
Step 10
Fill the oil can with the insecticide solution. Cover all food.
Step 11
Start the walk behind lawn mower and pump the built-in lever on the oil can.
Step 12
Push the mover up to and under any shrubs and bushes around the area where you will barbecue and pump insect fogger into these areas. Wear a face mask for protection as an extra precaution, although the fumes will be directed away from the lawn mower operator.