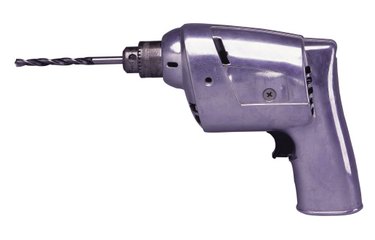 The materials found in cordless tool batteries are recyclable. Manufacturers reuse the materials to assist in the manufacture of new products. While it is not mandatory to recycle cordless tool batteries in each state, the states of New York and California do enforce such laws. Recycling cordless power tool batteries has a positive effect on the environment and helps to reduce hazardous spills at landfills.
Step 1
Remove the battery from your cordless power tool. Cordless power tools vary by model type and manufacturer, so refer to your owner's manual for complete battery removal instructions.
Step 2
Go to Call2Recycle's website, which belongs to The Rechargeable Battery Recycling Corporation, a nationwide battery disposal organization.
Step 3
Locate battery recycling facilities across the Unites States and Canada using the "drop off locator" tool.
Step 4
Find a cordless power tool battery disposal and recycling center in your state. Enter your zip code and choose the nearest location.
Step 5
Drop off your battery or arrange pickup if a drop-off facility near you is not available. Recycling services are available free of charge.
Step 6
Alternatively, recycle locally. Contact a replacement parts store in your town and inquire about recycling services. Drop off your cordless power tool batteries as directed.
Tip
Contact an organization such as Workaid and Tools for Self Reliance if you wish to recycle old work tools. These and other organizations accept tools in poor condition and then refurbish and distribute them for work projects in developing counties.