Things You'll Need
Vinyl records, 33s and 45s

Soap

Towels

Baking sheet

Oven-safe bowls, various sizes and shapes

Wood work surface

Drill with small bit

Masking tape

Fishing line

Thumb tacks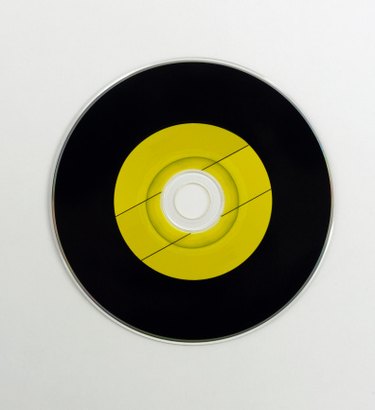 Nothing says "rock 'n' roll" better than vinyl records and there are two ways you can turn them into decorations for a party. Find inexpensive records at thrift stores, consignment shops and flea markets. They don't have to be in pristine condition and it doesn't matter who the artist was. Both projects are fast and easy to complete.
Vinyl Record Bowls
Step 1
Wash the records in hot, soapy water. Rinse and dry them immediately.
Step 2
Heat the oven to 400 degrees.
Step 3
Invert an oven-safe bowl on the baking sheet.
Step 4
Center a 33 record on the inverted bowl.
Step 5
Place the baking sheet in the oven. Keep the oven door open a bit if the door doesn't have a window, as you'll need to watch the melting record carefully.
Step 6
Let the record collapse around the bowl as it melts.
Step 7
Remove the baking sheet from the oven as soon as the record has melted around the bowl.
Step 8
Lift the record off the bowl and shape it, if you want. The plastic remains pliable for 10 to 15 seconds.
Step 9
Repeat using another record and another size bowl, to vary the size and shape of the finished project. Continue until you have the desired number of bowls.
Vinyl Record Mobiles
Step 1
Lay the 33s and 45s on a flat surface.
Step 2
Place a one-inch piece of masking tape about one inch in from the edge of a 33 and about 1/2 inch in from the edge of a 45.
Step 3
Drill a hole into each piece of tape and through each record. Remove the tape.
Step 4
Thread a length of fishing line through each hole and secure it near the edge of the record by tying a double knot. Leave plenty of line so you'll be able to vary the heights at which you hang the records.
Step 5
Tie the records on fixtures like ceiling fans and curtain rods and tack them on the tops of doorway and window moldings and under counters, ledges and table tops, so that they hang down like fringe. Vary the lengths of the fishing line.
Tip
Line the bowls with paper towels before using them to serve snacks.
Warning
Do not leave the oven unattended while melting records. Once they get hot, they melt very quickly.