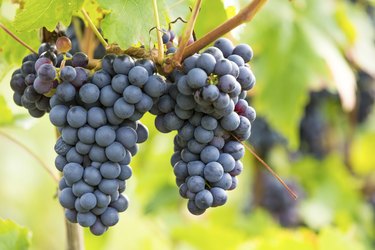 With their thin skins, you just pop table grapes -- red, black and green, seeded or seedless -- in your mouth and savor the flavor. You can find Concord grapes, typically turned into juice, jelly, jam and preserves, if you or a neighbor grows them or if you are near a vineyard that allows public picking. Eating these richly blue-pigmented orbs requires a bit of technique.
Options for Eating the Concord
Their seeds and thick skins may prompt you to place a Concord between your lips, squeeze the berry out of its slip skin, chew the sweet fruit and its seeds and swallow both. Conversely, you can swallow the skin and fruit but spit out the seeds. You also could suck the pulp through your teeth, discard the skin and spit out the seeds. The Concord Grape Association notes you can eat these grapes with or without the skin, and with or without the seeds.