Things You'll Need
Sharp knife

Serrated grapefruit spoon

Large bowl

Airtight storage containers or freezer bags

Large saucepan (optional)

Sugar (optional)

Spoon (optional)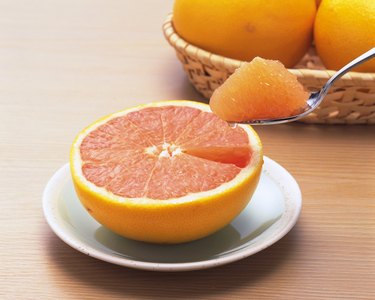 One way to preserve an overabundance of Ruby Red grapefruit is to freeze the sections. These sweet, juicy citrus are usually eaten fresh, but they freeze surprisingly well if you make sure you remove all the seeds and membranes. The rosy-red sections can be thawed and used for salads, desserts or to make juice. Keep the grapefruit in the freezer for no more than 12 months for the best quality.
Step 1
Wash the grapefruit. Slice each grapefruit in half, crosswise, with a sharp knife.
Step 2
Remove any seeds, then use a serrated grapefruit spoon to extract the sections of grapefruit from each half. Remove any parts of membrane left behind. Place the grapefruit sections in a large bowl.
Step 3
Place about 1 pint of grapefruit sections into an airtight storage container or small freezer bag. Seal the container or bag, label it, and place it in the freezer.
Tip
A serrated grapefruit spoon makes quick work of getting the grapefruit sections out whole. To freeze with a sugar syrup, mix 2 3/4 cups of sugar with 4 cups of water in a large saucepan. Heat mixture on the stovetop, constantly stirring, until the sugar is dissolved. Bring to a boil, then allow to cool. Pour 1/2 cup of syrup over each 1 pint of grapefruit sections in each container or bag. Seal tightly.