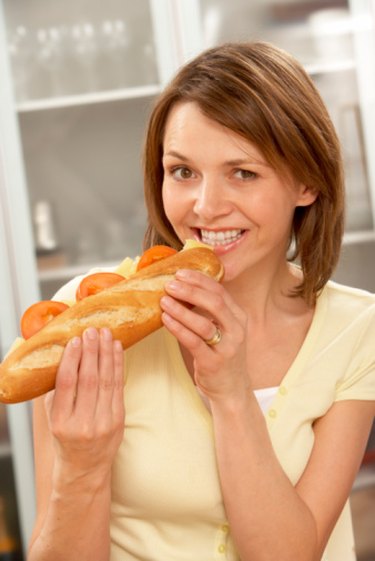 Subway is a sandwich-based restaurant with franchise outlets around the globe. The Subway Rewards Card is a promotional card issued by Subway that lets you accumulate points based on the amount of money you spend at any Subway restaurant. You can use your Subway points at any participating Subway restaurant for free food items based on a standard redemption scale. According to Subway, the Subway Rewards Card replaces the old Sub Club stamps program, which has been phased out.
Step 1
Visit your local Subway restaurant, or the one you eat at the most. Ask an employee if that location participates in the Subway Rewards Club program because not all do. Read any information regarding the details of the program, including how to earn and redeem points and if there are any rules specific to this individual store.
Step 2
Ask for a Subway Rewards Club card if your store is a participating member in the Rewards Club.
Step 3
Earn points. Before you can use your Reward Card points, you must earn enough to qualify for free menu items. According to the terms of the program, you will earn one point for every dollar you spend on menu items. Subway will round your point total up or down to the nearest dollar, before sales taxes. You must present your Rewards Card at the time of purchase to earn credit.
Step 4
Redeem your points at a participating Subway location. As of October 2010, if you accumulate 10 points you can redeem them for a cookie, while 15 points qualifies for one bag of chips. With 20 points you can get a 21-ounce drink, and 30 points is worth a bottled beverage or a Seattle's Best coffee. You can have a breakfast sandwich on 6-inch bread, flatbread or an English muffin for 35 points, while earning 50 points is enough for a regular 6-inch sub. It will take 65 points to get a premium 6-inch sub, and 75 points for a regular or breakfast foot-long sub, flatbread or salad. A premium foot-long sub or flatbread will cost you 100 points. You can add extra cheese, double meat or bacon to any regular sub or flatbread for an additional 20 points. The redemption menu varies slightly in Canada, and may have regional differences based on individual store promotions.