Things You'll Need
Pillow sham

Laundry detergent

Iron

Ironing board

Straight pins

Ribbons

Sewing machine

Thread

Scissors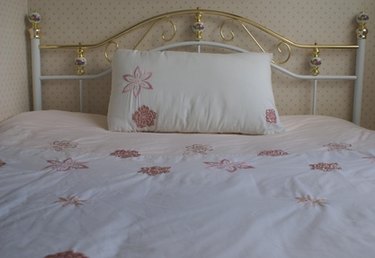 A pretty pillow sham can make a pretty window valance as well. There are two ways to make a pillow sham valance, depending on the size of the window and valance. You can hang the pillow sham from the longest corner or from a short corner for a different effect. You can also customize the way the pillow hangs from the curtain rod, choosing a pocket hanger or a tab hanger. This project is a simple one that should take less than one hour to complete. If desired, you do not have to use a sewing machine and can simply use safety pins to hang the valance.
Step 1
Determine which way you want to hang the pillow sham from the window. You can hang it lengthwise or longwise, depending on the look you want. Hang the valance lengthwise from a longer window, and longwise from a shorter window. Use the pattern on the pillow sham as a guide.
Step 2
Wash the pillow sham to remove any dirt, drool or head oil from the top of the sham. Dry the sham in the dryer unless it is lace or some other delicate material. Iron the pillow sham flat. Use starch to keep the pillow sham crisp.
Step 3
Fold the pillow sham's top edge down about 3 inches. Hold the ends of the pillow sham in place with straight pins.
Step 4
Choose if you want a pocket-style valance or if you want a tab-style valance. To make a pocket style, simply sew the folded portion of the pillow sham over and slide the curtain rod through the hole in the center. To make a tab-style valance, continue on to the next step.
Step 5
Cut a 3-inch piece of ribbon, or a ribbon long enough to wrap around the entire curtain rod plus an extra inch to sew the ribbon to the pillow sham. Cut enough pieces to use every 6 inches across the top of the pillow sham.
Step 6
Fold each ribbon in half. Pin the ribbons to the top back edge of the pillow sham with ribbons. Sew the ribbons to the back of the pillow sham.
Step 7
Slide the ribbons over the curtain rod. You now have a pillow sham valance.