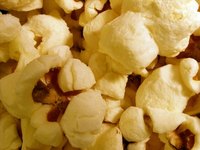 The first popcorn dates back to 5,600 years ago and was found in New Mexican bat caves in the late 1940s. Popcorn balls are supposedly a Midwestern invention. Wherever they came from , they are a treat for any celebration. This simple recipe does not use marshmallows but uses corn syrup and sugar to harden the popcorn into balls.
Things You'll Need
1 cup sugar
2/3 cups water
1/4 cup light corn syrup
1/2 teaspoon white vinegar
1/4 teaspoon salt
1/2 teaspoon vanilla extract
9 cups popped corn
Candy thermometer
Large mixing bowl
Medium saucepan
Wooden spoon
Waxed paper
Vegetable oil
Combine sugar, water, syrup, vinegar and salt in a medium-sized saucepan.
Cook the ingredients over high heat until it reaches 255 degrees Fahrenheit on a candy thermometer. This is called the hard-ball stage, meaning a spoonful of the candy dropped into cold water would form a hard ball.
Mix in the vanilla, making sure to incorporate.
Pour mixture onto the popcorn in a large bowl, tossing gently with a wooden spoon to completely coat all popcorn.
Cool enough to touch, and form popcorn into 3-inch balls onto waxed paper. Use oil on your hands to keep the popcorn from sticking. Balls are ready to eat when they're completely cooled.