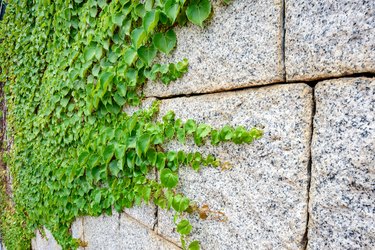 Ivy (Hedera, USDA plant hardiness zones 4-13) can grow on the ground, in containers and up walls and trellises. It is an evergreen genus of leafy plants that grow like vines. Planting ivy is not that hard; the plants do well inside and outside, and they generally have leaves with lobes. Some of the best-known varieties are English ivy (Hedera helix, zones 4-9) and Ivalace ivy (Hedera helix 'Ivalace,' zones 5-11).
English ivy is a clinging vine that produces flowers and is very popular worldwide. When properly cared for, it can grow as long as 100 feet, with dark green leaves that are about 4 inches. You can buy the plants in gardening centers and online, or you can start these and other varieties from the plant's berries or packaged seeds. You'll need to pull ripe berries from the plant, remove the seeds, clean away the pulps, place the clean seeds in a refrigerator and wait 30 days. You can plant packaged ones right away.
You should plant English ivy seeds in the spring. Fill a seed tray with potting soil to 1/4 of the way to the top and put one seed in the middle of each; gently push it down. Don't cover the seed with soil and water at this point and keep the soil moist until you see the seedlings. You can also start the seeds in a small pot. Fill one to 3/4 inch below the rim with seed-starting soil and place the seeds 1 inch apart. The best planters for English ivy are wide and shallow with drainage holes on the bottom.
Planting Ivy Seeds Outdoors
You can plant ivy seeds outdoors in the spring, but if you want to direct them to grow on an arbor, trellis or wall, it will have to be near one. Choose a shaded, moist location and mix about 3 inches of compost into the soil. Plant the seeds no more than 1/2 inch deep and water immediately. Keep the soil slightly moist until the seeds start germinating. This germination shouldn't take more than a month or so.
Ivy does not need to be trained to grow on walls, but you will need to manage it during the process. You should check it often and clear it when needed, keeping it away from roofs, soffits, windows and gutters. If you leave your ivy to its own devices, it can colonize and widen masonry cracks. It can also add wind stress to structures, like delicate trellises, and can get so heavy that it can knock them down. Keep ivy trimmed back to prevent this, especially after flowering.
Propagating Ivy From Stems
If you'd rather not plant seeds, you can propagate ivy from stem cuttings. Take a sharp, clean knife and cut 4- to 5-inch-long shoots from the plant. Then, you'll want to pinch the bottom parts of the leaves and dip the cut ends into a rooting hormone. Place the bottom 1 to 1 1/2 inches into coarse sand or perlite and then moisten it. Cover with a clear plastic bag and place the cuttings in a well-lit location out of direct sun.
Keep the medium moist for about six to eight weeks until you see roots starting to appear. You can plant it in pots or outside at the first point where you see roots. If you plan to keep it as a houseplant, you will want to place the containers away from heating vents and drafts. Either of these sources can cause ivy to dry out. You can also mist the plants with water often, and this also keeps away spider mites.