Things You'll Need
Plastic wrap

Pastry brush

Liquor

Freezer bag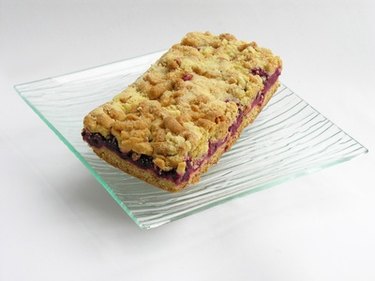 Fruitcakes are not only for eating during the holidays. Fruitcake freezes well if properly packaged and can stay in the freezer for six months or longer. The dessert requires a period of four weeks stored in the refrigerator before freezing to allow the fruitcake time to age. After the aging process, you may freeze your fruitcake for later consumption.
Step 1
Remove the fruitcake from the loaf pan after baking in the oven. Let it cool completely on a wire rack on the counter. This may take one to two hours depending on the size of the fruitcake. After the fruitcake has cooled, you will wrap it for storage in the refrigerator.
Step 2
Tear off a large piece of plastic wrap and lay on the kitchen counter.
Step 3
Lay the fruitcake onto the plastic wrap. Bring one side of the plastic wrap over the top of the fruitcake. Bring the opposite side over the fruit cake covering the plastic wrap tightly. Fold the ends of the plastic wrap under the fruitcake.
Step 4
Store the fruitcake in the refrigerator for four weeks.
Step 5
Once a week, remove the plastic wrap from the fruitcake. Brush the outside of the fruitcake with the same liquor used in the cake. Re-wrap with new plastic wrap.
Step 6
For longer storage, you can place the wrapped, aged fruitcake into a freezer bag. Push out as much air as possible before sealing the bag. Store fruitcakes from six to seven months in the freezer.