Things You'll Need
Sand

Zip-top plastic bag

Plastic pots, square, 4 1/2 inches by 4 1/2 inches

Soilless seed-starting mix

Spray bottle

Grow lights (optional)

Tub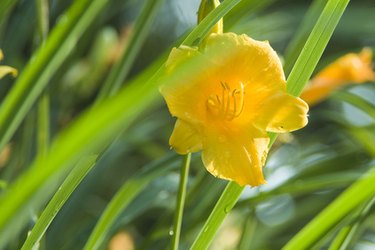 Daylilies derive their name from the fact that each flower lives only one day. Just keep in mind that they are prolific and repeat bloomers, so there is usually another bloom to take the place of the departed. Daylilies, native to eastern Asia, are herbaceous perennials that can handle both wet and dry conditions, heat and cold, and shade and full sun. Stella d'Oro, also spelled Stella de Oro, is a compact hybrid daylily that grows to 2 feet tall with an equal spread and produces small, fragrant gold flowers. Stella is hardy in USDA Zones 4 through 9 and into zone 10 in California only.
Step 1
Moisten enough sand to envelope the Stella de Oro seeds. The sand should be just slightly moist, not wet.
Step 2
Place the sand in the plastic bag and push the seeds into it until they are completely covered. Seal the bag and place it in the refrigerator, where it should remain for six weeks.
Step 3
Fill the planting pots with the soilless seed-starting mix to within 1/2 inch of the rim. Water the mix until it is saturated and allow the pot to drain completely. Add more mix to bring it to 1/2 inch of the rim of the pot if it settles after watering.
Step 4
Place the Stella de Oro seeds close together on the surface of the mix. You can fit 16 seeds in each pot, according to growers at The Daylily Place. Cover the seeds with a 1/4-inch layer of sand and mist the sand lightly with water from a spray bottle.
Step 5
Place the pots in direct sun in an area that remains between 55 and 65 degrees F. You can also place them 6 inches under grow lights for 15 to 20 hours per day.
Step 6
Water the seeds by placing the pot in a tub of water. As the soilless mix wicks up the water add more to the tub until the top of the soil is moist. Be careful not to overwater the seeds or they will rot. Your Stella de Oro seeds should germinate in three to seven weeks.
Step 7
Plant the Stella de Oro daylily seedlings outdoors in early spring or late autumn.