Things You'll Need
Gloves

Mask

Tarp

Chemical paint stripper

3-inch flat paint scraper

Dishwashing soap

Bucket

Water

Fine-grit sanding block

Tung oil

Fine-grit scrub sponge

Polyurethane topcoat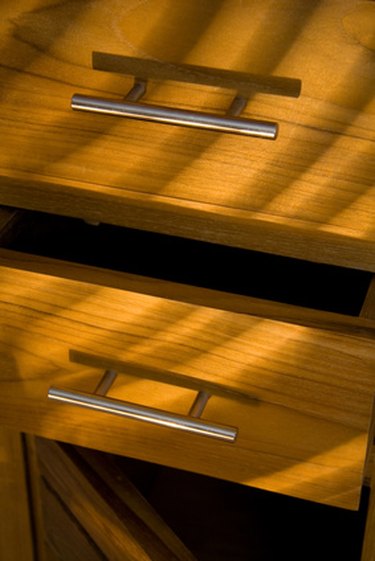 1950s design style has sleek lines free of ornate details and scrollwork. Blond furniture was popular because it easily lent itself to the minimalist quality of the furniture. In the years since the furniture was made, your blond piece of 1950s furniture may have lived in a number of different homes and through numerous decades of style. It may be covered in multiple layers of stain and paint. Reveal the beautiful blonde wood underneath by removing the old layers. With a clear protective layer over the top of the bare wood, the simple beauty of the wood will be revealed.
Step 1
Put on gloves, a mask and goggles. Paint a thick coat of paint stripper onto the furniture with an old paintbrush. Let the chemicals soften the paint and topcoat for 15 to 20 minutes. Test the surface to see if it is properly softened by lightly scraping with a paint scraper. The paint should come off easily.
Step 2
Scrape off any paint or varnish from the furniture. Hold the scraper away from your body and pull towards you to remove the finish. Remove as much finish as you can with the scraper.
Step 3
Combine dishwashing soap with warm water in a small bucket. Dip a sponge into the mixture and wring out the excess water. Wipe the furniture to remove the chemical residue.
Step 4
Sand the furniture with a fine-grit sanding block. Sanding will remove any discoloration in the wood. Sand the surface of the wood until it is soft, smooth and free of color. Wipe away sanding dust with a damp cloth.
Step 5
Dip a rag into tung oil. Rub the oil into the wood, wiping up any excess as you go. Cover the entire surface. Let the oil soak into the wood until all of the shine is gone. Repeat two more times.
Step 6
Pour a tablespoon of clear polyurethane onto a fine-grit scrub sponge. Rub the topcoat into the wood until it is coated with a thin, even layer. Allow the polyurethane to dry overnight. Add two more coats of polyurethane using the same method. Allow each coat to dry overnight before applying the next.
Tip
Polyurethane comes in matte, satin and gloss finishes. A matte finish will preserve the bare look of the blonde wood. A higher gloss finish will provide slightly more protection from moisture and stains.