Things You'll Need
Soft tortillas

Mustard

Ketchup

Hummus

Roasted vegetables

Deli meats

Deli cheeses

Lettuce or kale

Pickles or olives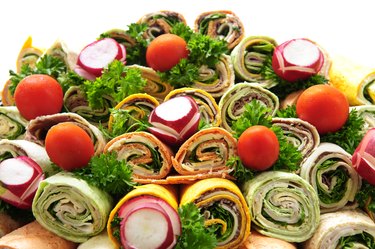 Wrap sandwiches are a perfect fit for party platters. You can offer a variety of choices to your guests without buying a lot of ingredients, and you can easily accommodate limited diets. When choosing your ingredients, keep in mind that your guests will likely mingle and stand as they eat, so the neater the sandwich wraps, the better. Choose from classic ham or turkey and cheese with mustard or mayonnaise, to tuna, grilled chicken and roasted vegetables. If you're planning for several platters, present vegetarian wraps on their own platter to keep them separate.
Step 1
Lay your first batch of soft tortillas on a flat surface.
Step 2
Spread a thin layer of condiment over the wrap. Depending on the number of sandwich wraps you're making, you may want to use a different party platter for each type of wrap to avoid confusion and so vegetarian foods are kept separate. Choices for condiments include mayonnaise, mustard, honey mustard, cream cheese, baba ghanoush and hummus.
Step 3
Add a thin layer of lettuce leaf or pickle to the wrap. Sprinkle seasonings like pepper, paprika, oregano or thyme lightly.
Step 4
Lay the meat of your sandwich wrap in a thin layer over the condiment. Leave the edges clear to keep your wrap neat. If you have multiple layers, like a meat and cheese wrap, make sure there's an even layer of both.
Step 5
Fold the side edge in. From the opposite side, gently roll the wrap onto itself. Close the top and bottom ends of each tortilla so when you cut them in half the filling doesn't come out of the end.
Step 6
Once rolled, cut the wrap in half.
Step 7
Line a platter with a layer of lettuce or purple kale. Fan the wraps around the outside of the platter and include olives or pickles.
Step 8
Refrigerate until it's time to serve the wraps.
Tip
Consider using flavored tortillas instead of white flour tortillas. Flavored tortillas are less likely to break when you're rolling the wrap and they create a more colorful party platter. If people will be moving around, consider wrapping the wraps in aluminum foil.
Warning
Be careful not to fill your wrap too much or it will crack when rolling or spill over your guests' hands.