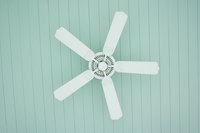 Hampton Bay ceiling fans are designed for ease of assembly and installation, making them a popular accessory to add to a room. On occasion, whether the room is getting a new paint job or a complete remodeling, removing an existing Hampton Bay ceiling fan from the ceiling may become necessary, and the project is even easier than the original installation.
Things You'll Need
Ladder
Standard screwdriver
Phillips screwdriver
Electrical tape or wire nuts
Turn the power off to the ceiling fan location at the main breaker or fuse panel.
Access the ceiling fan from a ladder, then loosen and remove the two screws attaching the ceiling canopy cover to the ceiling bracket with a screwdriver.
Lower the canopy cover and allow it to slide down onto the top of the fan motor housing to expose the ceiling mounting bracket.
Lift the ball at the top of the downrod upward, then out of the ceiling mount bracket. Lower the fan assembly slightly to expose the fan wiring connections. The fan motor should be supported by a helper as the downrod ball is removed from the ceiling bracket.
Extract the electrical wires from the ceiling box and separate them.
Disconnect the three wires between the ceiling box and the fan and twist a wire nut onto the end of each wire from the ceiling box. This will eliminate the risk of a short or shock from the circuit until the fixture is replaced.
The fan assembly is now free of the ceiling box and can be removed.