Things You'll Need
Baking soda

Toothpaste

Cup

Rag

Furniture polish

Utility knife

Small flathead screwdriver

Medium and fine sandpaper

Epoxy primer

Brush

Wood epoxy filler

Putty knife

Primer and paint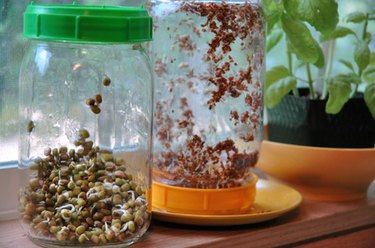 Over time, if a windowsill is not correctly shielded from the natural elements, or if a wet mug is simply set down without a coaster, the sill will deteriorate or rot. A water-damaged window sill can, however, be brought back to its best with a minimum of knowledge or know-how. Restoring a sill ranges from the application of toothpaste and baking soda for water stains to the more labor-intensive process of repairing rotting wood with epoxy primer and wood filler.
Water Marks
Step 1
Mix together in a cup a 50/50 solution of baking soda and toothpaste.
Step 2
Rub the mixture gently over the water mark with a rag. Wait a few minutes before rubbing in more of the solution. Do this as many times as needed until the water mark disappears.
Step 3
Remove all solution, wait for the area to thoroughly dry, and apply furniture polish.
Severe Damage, Including Rotting Wood
Step 1
Scrape off all paint and damaged wood from the area--use a utility knife and small flathead screwdriver. Thoroughly sand the area as well as the edges of any holes. Remove all dust and wood particles.
Step 2
Apply a thin layer of wood epoxy primer to the damaged area with a brush. Wait 10 minutes for it to dry.
Step 3
Stir the wood epoxy filler and apply it to the damaged area, using a putty knife. Wait for it to dry and sand the area with medium and fine sandpaper until smooth to the touch.
Step 4
Prime and paint the sill to seal it from any future weather/water damage.