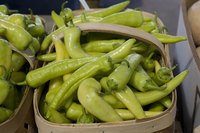 Dehydration is a simple way to preserve fresh banana peppers. Once dried, the peppers can be stored in airtight containers on a pantry shelf and will be ready to use. Unlike many vegetables, you do not have to blanch peppers before drying them, which makes them less time-consuming to prepare.
Things You'll Need
Wash the banana peppers under cold, running water to remove any dirt and debris from the skin.
Cut the stem off each pepper.
Slice the peppers in half lengthwise and remove their seed core.
Lay them in a single layer on a dehydrator tray. The peppers can touch one another, but don't lay them on top of each other.
Place the rack in the dehydrator and close the lid. Turn on the machine.
Dry them for eight to 12 hours or until the peppers are pliable when bent and are dry to the touch but not brittle.