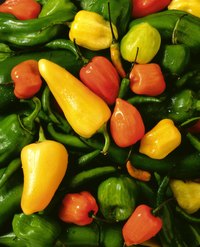 Whether you have a productive garden or scored a great deal at the grocery store, pickling can be a convenient way to preserve a bounty of peppers before they go bad. While the canning process can be intimidating if you've never done it before, refrigerator pickled peppers are a versatile and safe way to turn extra produce into a delicious snack or sandwich topping. You can adjust a pickled pepper recipe to reflect your spice preference by using spicy or mild peppers and by adding red pepper seeds or other spices to your pickling brine.
Things You'll Need
Cutting board
Knife
Cooking pot
Stove
Peppers
Vinegar
Salt
Sugar
Peeled garlic cloves
Oregano
Dill or dill seed
Whole coriander
Ladle
Canning funnel
Glass jars with lids
Wash your peppers thoroughly. Slice and de-seed them if you do not want to pickle them whole. Wear gloves if you are cutting spicy peppers.
Add 3 cups of vinegar, ¼ cup of sugar, 1 tablespoon salt, several garlic cloves and the oregano, dill and coriander to your stock pot. Boil this mixture until the salt and sugar are both dissolved.
Place peppers in the jars. Pack the jars with peppers before you add the brine.
Ladle hot brine into the jars using the funnel to make it easier. Fill the jars almost to the top and put the lids on.
Transfer the jars to the refrigerator when they are cool enough to handle.
Brine the peppers for at least 24 hours before eating them.