Things You'll Need
Sharp knife

Large pot

Tongs

Paper towels

Dry rub

Barbecue sauce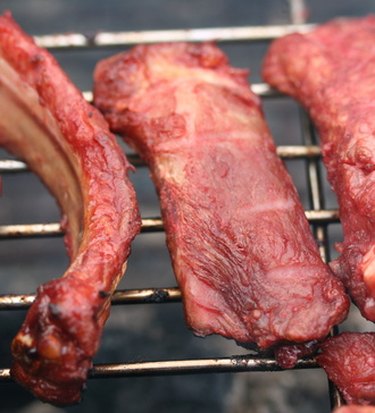 Spareribs come from the belly of pork, in the same location as bacon. Spareribs contain more fat and meat and are not quite as tender as baby back ribs. Ribs take a long time to cook on the grill due to the preparation involved. If you are short on time, boil ribs before placing them on a grill. This will break down the tissue and fat to tenderize the meat.
Step 1
Remove the white membrane from the ribs if it remains attached. Trim off excess fat from the spareribs with a sharp knife. Discard the excess fat. Cut the ribs apart with a sharp knife.
Step 2
Fill a large pot with water and bring it to a boil. Place the ribs in the boiling water.
Step 3
Boil the ribs for 30 to 60 minutes to remove excess fat and tenderize the meat. Remove the pot from the heat source.
Step 4
Remove the ribs from the boiling water with tongs. Pat the ribs dry with paper towels.
Step 5
Coat the ribs with dry rub or barbecue sauce. Transfer the ribs to a hot charcoal or gas grill.
Tip
Add bouillon cubes to the water to add flavor to the ribs.
Warning
Boiling spare ribs can reduce the natural flavor of the ribs.