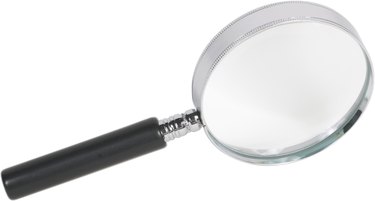 Bessie Pease Collins Gutmann was a female illustrator artist at the turn of 19th century and into the first half of the 20th century. She specialized in children and children's art, creating some famous prints like "Awakening" and "Disgrace." She illustrated Lewis Carroll's 1907 edition of "Alice's Adventures in Wonderland" and the 1905 edition of "A Child's Garden of Verses" by Robert Louis Stevenson. Bessie Pease Gutmann prints sold as poster art and prints today show notable differences in the paper and printing from a century ago.
Step 1
Find signs of age on a Bessie Pease Gutmann original print. Old prints often have water marks, foxing or brown age specks, yellowing, and fading of the print from ultraviolet light. These prints hung in homes for years as decorative art, and colors are likely faded.
Step 2
Confirm that the signature looks like the one shown on the Identify Artists Signatures website. This signature is on the left on the original prints.
Step 3
Check the paper kind, quality and condition. Vintage Gutmann prints are on a dull-finish or matte paper, reports Art World website. Original prints will show some yellowing, as acid-free paper was not a consideration at the turn of the century.
Step 4
Look at the frame and glass. Early 20th century frames were wood, but were small and did not use a mat. A common size for a Gutmann print was 14 inches by 18 inches and the frame would add an inch or so to the overall size. Old glass used for framing was thin, not always consistent in thickness, and may look wavy from the side. This shows as distortion in the artwork. Non-glare glass is a new glass.
Step 5
Check for the printing company and origin. Gutmann & Gutmann, N.Y. was the printing company for most of Bessie Pease Gutmann prints, and the Bob Vila website shows this name on a print. Art World shows "Gutmann and Gutmann Copyright New York NY" as printing company information on one of its prints. The print should have "Made in U.S.A." below the printing company and typically a number for the print.
Step 6
Look at the printing style for the title of the print. Art World reports that old prints have block letters and some new prints have script titles.
Step 7
Check the print with a magnifying glass. Lithographs have a granular pattern that is irregular, according to Old Imprints website. Lines and dots show a newer print made with a photo-mechanical process and copy machines show up as linear lines of color. Look for hand coloring lines. Many of the old prints were hand-colored.