Things You'll Need
Manual oil press

Food scale

Pen

Baking sheet

Food thermometer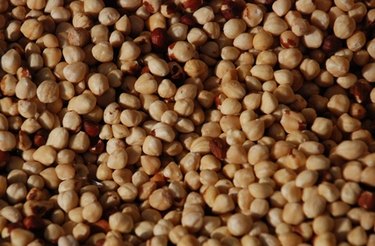 Hazelnut oil is very expensive and primarily manufactured in France. However, if you have your own supply of hazelnuts, then making the oil is as simple as turning the crank on a hand press. Hazelnut oil has a delicate flavor that adds character to many baked goods. Because of its high vitamin E content, it is also used to make soaps and other skin care products. Once you get the hang of the process, you are bound to find many other uses for your hazelnut oil. And if refrigerated and stored properly, hazelnut oil will last anywhere from six months to one year.
Step 1
Rub the skin off of the hazelnuts with your fingers.
Step 2
Dry fresh hazelnuts until they have only 10 percent moisture: Weigh the hazelnuts and record the weight. Then spread them out on the bottom of a baking dish and bake them at 300 degrees F for one hour. Then remove (let it cool first) and re-weigh the sample. Subtract the new weight from the original weight. This is the weight lost. Then divide the weight lost by the original weight. Multiply that number by 100. That is the moisture percentage of your sample. Continue to bake the hazelnuts at one hour intervals until they are close to 10 percent moisture.
Step 3
Heat the hazelnut seed to between 100 and 160 degrees F in the oven.
Step 4
Add the hazelnuts to the reservoir in the top of your hand press.
Step 5
Place a sealable glass jar beneath the drip to catch the oil.
Step 6
Turn the crank to express the oil.
Step 7
Seal the jar and store the hazelnut oil in the refrigerator whenever you are not using it.
Tip
If your hazelnuts are already dried, skip the drying step.