Things You'll Need
1/2 cup white vinegar

1/2 cup ammonia

Bucket

1/4 cup baking soda

Spoon

2 tsp. liquid hand soap

Spray bottle

Plastic container

Laundry detergent

Bleach

1/2 cup baking soda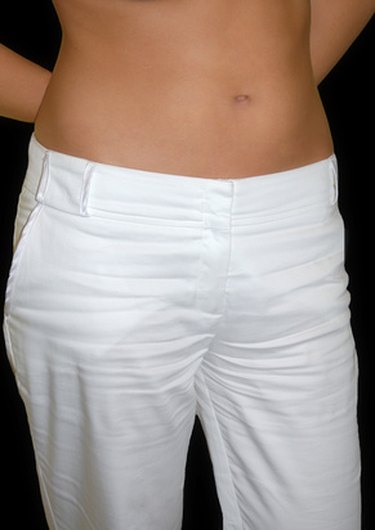 White jeans can be worn casually or you can dress them up with a blouse, jacket or accessories. White jeans are a stylish alternative to regular blue jeans and will last as long as your blue jeans, when taken care of properly. Proper washing of white jeans keeps the jeans white, removing stains and preventing other colors from bleeding onto the white denim fabric.
Step 1
Pour 1/2 cup each white vinegar and ammonia into a bucket. Add 1/4 cup baking soda and stir the mixture as it bubbles and foams. Pour 2 qt. water and 2 tsp. liquid hand soap into the bucket and stir again to make a stain-removing mixture for white jeans and clothing.
Step 2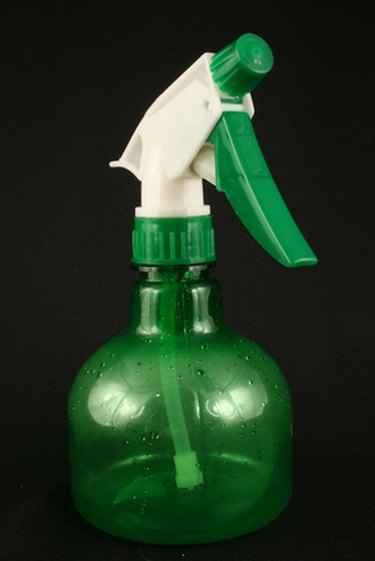 Fill an empty spray bottle with some of the homemade stain remover and store the rest in a plastic container with a lid. Spray the solution directly onto stains on white jeans. Allow the pre-wash to sit on the stains for 10 minutes. Baking soda and vinegar combinations work to remove stains and whiten white clothing.
Step 3
Fill the washing machine with water, laundry detergent and liquid bleach, using the directed amounts of detergent and bleach. Check the care label on the white jeans for the correct water temperature. Most whites are washed in hot water, but always check to avoid shrinkage.
Step 4
Add 1/2 cup baking soda to the rinse cycle in the washing machine. The baking soda will further whiten your jeans, while also softening and freshening them.
Tip
Wash white jeans with like clothing, never with regular blue denim.
Remove stains from white jeans as soon as they happen to lessen the chance of permanent discoloring.
Warning
Avoid excessive use of chlorine bleach as it can turn whites yellow.