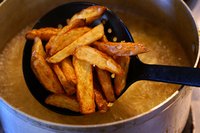 Deep frying is a simple method for creating tasty treats. Purchasing a deep fryer can be costly, especially if you do not plan on using it very often. It is simple to create a homemade deep fryer with only a few household items. This is an advantage if you don't have space to spare for new cooking appliances. Ultimately, making your own homemade deep fryer is a budget-friendly and practical alternative to buying an electric deep fryer.
Things You'll Need
Stockpot--6 qt. or larger
Cooking oil
Candy thermometer
Homemade Deep Fryer
Fill the stockpot with cooking oil, two inches deep to halfway full.
Attach the candy thermometer to the stockpot. Make sure the tip of the thermometer is submerged in the cooking oil.
Place the stockpot on the stove burner over medium/high heat.
Begin deep frying when the oil temperature has reached 375 F. Maintain the temperature by increasing the heat gradually as you add food.
Scoop out the food with the slotted spoon when done.