Things You'll Need
Clean cloths

Household cleaner

Vacuum

Dish soap

Stiff brush

Screwdriver

Long-handled wire brush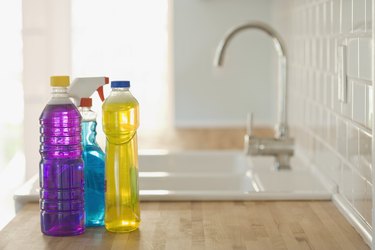 Miller oil furnaces are high-efficiency units that use natural gas, propane gas or an oil burner substitution to power the unit and meet with all federal energy efficiency standards, which may result in energy conservation rebates in some areas. The Miller CMF80-PO offers multi-firing technology and a three-speed custom fit. The Miller CMF80-PO should be cleaned every few months for proper performance and maintenance of the unit.
Step 2
Wipe down the furnace exterior with a clean, damp cloth and check for any soot, oil or leaks that indicate an issue that requires the assistance of an authorized technician. If the exterior is excessively dirty, spray a standard household cleaner on a clean cloth and use to wipe away the dirt or grime.
Step 3
Check the electrical connections to make sure they are not corroded or loose. Contact an authorized technician if the connections are not tight or appear to be corroded.
Step 4
Slide open the filter unit and take out the filter. Clean with a vacuum, then wash with water and a few drops of dish soap. Rinse well with water and dry with a cloth or allow to air dry. Place back in the unit when finished.
Step 5
Examine the gaskets, blower fan and vents and wipe away any dirt or dust with a clean cloth. If gaskets are damaged or broken, remove and replace with new gaskets.
Step 6
Remove the burner and look at the heat exchange and flue pipe. Excess dust and debris can be scrubbed away with a stiff brush or vacuumed with a small hand-held vacuum. Replace the burner when finished.
Step 7
Open the front covers to access the clean-outs. Open the clean-outs and scrub with a stiff brush to remove dirt and soot inside. Close the clean-outs and replace the front covers.
Step 8
Open the round covers on the front of the unit. You may need to loosen screws to open the clean-outs, but do not remove the screws completely. Use a long-handled wire brush to clean off soot and dirt inside the clean-outs. Tighten the screws and close the covers when finished.