Things You'll Need
1/2 cup flour

3 tbsp. sugar

Measuring cups

Saucepan

Spoon

Cold water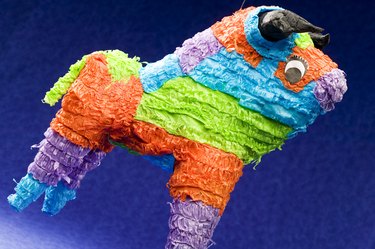 Make a pinata and add a festive decoration and activity to your next party. Pinatas are paper mache creations covered in colorful crepe paper. Pinatas come in a variety of shapes and designs. Usually filled with candy or small toys, guests take turns hitting the pinata with a stick until the goodies inside fall out for the guests to collect. Paper mache consists of strips of newspaper held together with glue or paste. Make your own pinata glue with materials found in the kitchen.
Step 1
Mix 1/2 cup flour with 2 cups cold water. Stir until the mixture is no longer lumpy.
Step 2
Bring 2 cups of water to a boil in a saucepan over medium heat. Add the flour mixture to the boiling water and stir constantly until the mixture returns to a boil.
Step 3
Remove the flour mixture from the heat. Stir in 3 tbsp. of sugar until thoroughly combined with the flour mixture.
Step 4
Leave the glue in the saucepan to cool, stirring occasionally. The glue is ready to use once it returns to room temperature and thickens.
Tip
Dip newspaper strips in the glue, completely coating them. Place these strips over a balloon or other pinata frame. Once dried, these strips make up the body of the pinata.
Use the pinata glue to attach the crepe paper decorations to the pinata. Purchased craft glue to attach the crepe is also an option.