Things You'll Need
Length of 1/2-inch hose

1/2-inch drill bit

Small tube of silicone

Drill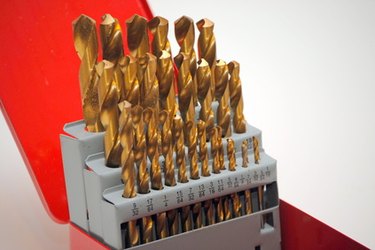 Humidity promotes mildew growth in the home, which is why many homeowners have dehumidifiers plugged in and humming most of the time. While they hum, water is collecting in the container in the rear of the machine. Your dehumidifier container has to be dumped every couple of days--but with a few simple tools you can let your sump pump do that for you. The sump pump, a column pump which pumps water automatically using a float system, is usually located on the ground floor or in the basement.
Step 1
Disconnect the power from the dehumidifier and remove the dehumidifier container from the back of the machine.
Step 2
Drill a hole in the back wall of the dehumidifier container. The hole should be as close to the bottom of the container as possible.
Step 3
Force one end of the hose and through the hole until there is about an inch of hose on the inside of the dehumidifier container.
Step 4
Open the silicone tube and spread the silicone on the dehumidifier container and hose on both the inside and outside of the container.
Step 5
Lead the other end of the hose to the bottom of the sump pump.
Step 6
Put the dehumidifier container back into the machine, and turn the machine back on.
Tip
Put water on your finger tips before you touch the silicone, and keep your finger wet while working with the silicone.That will make spreading it much easier. The silicone won't stick to your wet finger while you are working with it.