Apple crumble is like an upside-down, open-faced pie. It takes apple slices sweetened and flavored with spices, but instead of using a pie crust or biscuit-style cobbler topping, it is covered with a crumble mixture made of brown sugar, oats, butter and other spices. You can freeze apple crumble unbaked or baked, whether you want it for a future meal or just to save leftovers. Frozen apple crumble will keep for 3 to 4 months.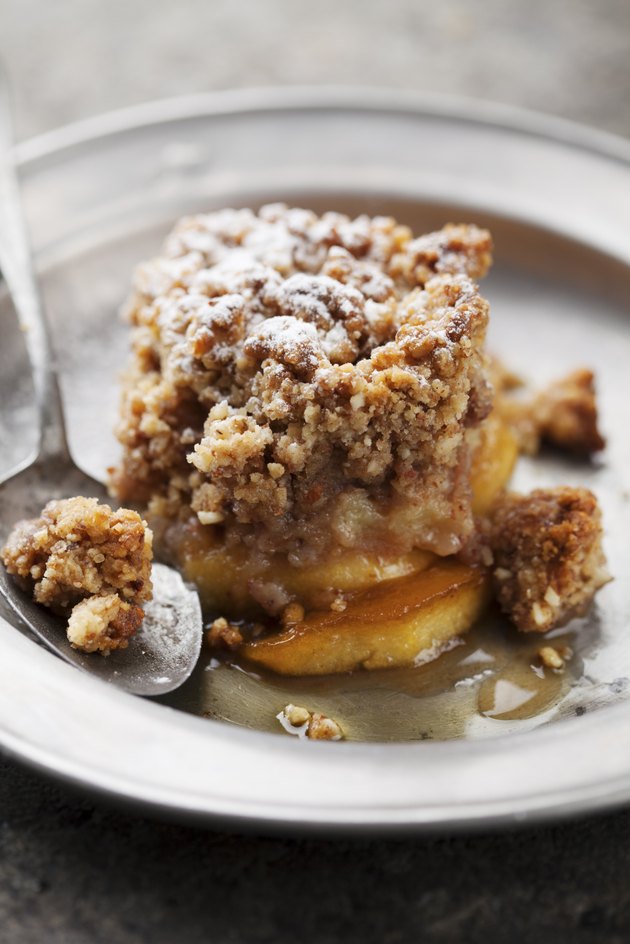 Unbaked Apple Crumble
Freeze an unbaked apple crumble directly in a freezer-safe and ovenproof pan. You should use packaging designed for freezing to keep out excess moisture, wrapping the crumble securely in freezer paper and then with foil. This will keep the dish from developing freezer burn and make the apple crumble taste fresh when you're ready to bake it.
Baked Apple Crumble
Cool a baked apple crumble quickly to prevent bacteria from setting in before it's frozen. Setting the pan of apple crumble in an ice bath will cool the crumble quickly and safely. Then you can wrap it in freezer-safe packaging and store it.
Thawing Frozen Apple Crumble
Thaw the unbaked or baked frozen apple crumble in the refrigerator overnight. Once it's thawed, you can bake it according to your original recipe or reheat it at 350 degrees Fahrenheit until its warm. The reheating process should take about 30 minutes.